~Candlelight Vigil~
Deanna Cremin
Investigator/Reporter -
Bob Ward
My Fox Boston | Fox25 News -
Monday, March 29, 2010
__________________________________________________________
The above photographic manipulation actually started out as a black and white photo of just one light bulb...
Original from
seven years
.
With selections and feathering I applied the glow effect on multiple layers. I use a sequencing of that image for the intro video to our site,
GrfxDziner.com
. It is featured towards the end, and the light flashes with the sound effect.
Here is just that portion of the video:
LightsCamera1
| GrfxDziner.com
There is a strip of the unblurred background across the bottom in that animated sequence. It's just a couple layers of blurring and multiplying to darken the image like that. The blurring helps bring the logos forward some too. Here are the some of the image steps for sequencing...
It will always help the effects a great deal when you adjust the lighting in stages. You may not use all of the steps, but having them available when you are doing the effect will allow for more options. Once I did all of the work in the initial edit from the top of this post (you can click that image for a full description of the edit), it only took a few minutes to do each of the steps for the effect. I do them in progressive layers, then just save each layer as a separate file. Sequence your file names too, and make the changes near the end of the file name. When you go to load them into some programs such as Flash, the program will recognize the sequence and ask you if it should load them all. This speeds up the importing process quite a bit, and will allow photos to be arranged easily in order.
Most animation/slideshow programs have a
"tweening"
function that allows for for very smooth blending. These will help you in learning some simple photographic animation effects...
Lesson5B: Lights, Camera, Action...
Automatic download link for PDF file (12.0MB)
www.GrfxDziner.com/lessons/Lesson5BFULL.PDF
...and this is Lesson 5A...
Automatic download link for PDF file (26.3MB)
www.GrfxDziner.com/lessons/Lesson5AFULL.PDF
Here are .mov links for a similar layering effect with lens flare...
LogoBurst4
| slow version
LogoBurst4b
| fast version
LogoBurst5b
| fast version, less movement (frames), fades to black.
Pause the movies while they play, and then use the arrow keys on your keyboard to move the flare back and forth. Make the light dance! Then, put on a song you like, and make the light dance to the song. Try it with the different movies too. They are set at different rates, so you can use that to adjust your tempo. That same idea is how you make the imagery blend and pop with the beat of the music. You also want your videos to "stream", so that the sound is always synched with the imagery.
~Candlelight Vigil~
Deanna Cremin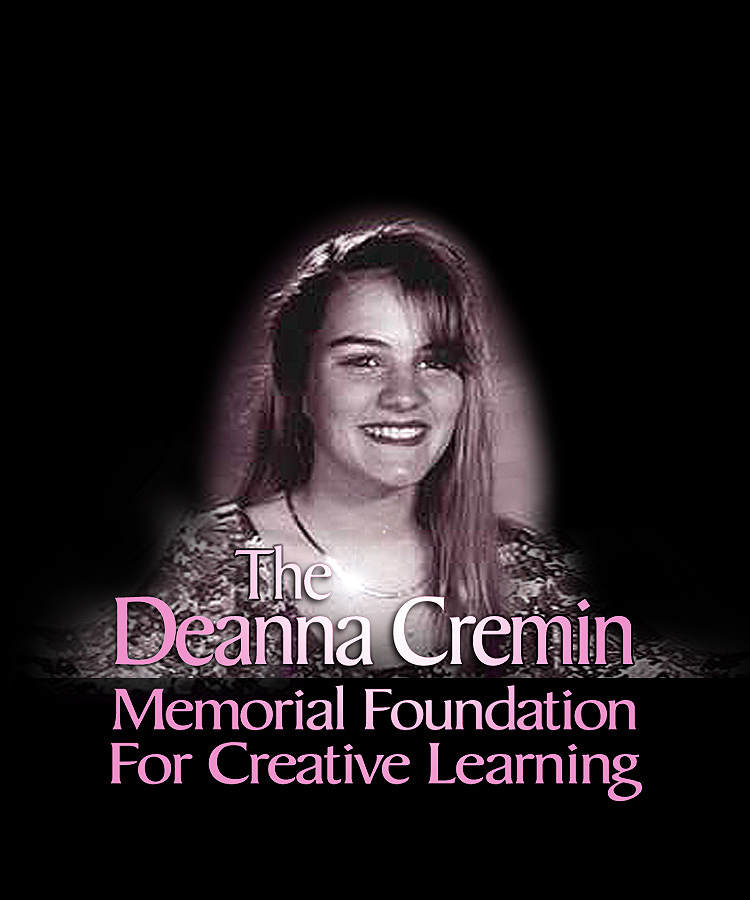 Deanna Cremin Memorial Foundation
| Recent Uploads
check out this blog too from the
Deanna Cremin Memorial Foundation:
GrfxDziner.com
|
Fade to Black
...
http://GrfxDziner.blogspot.com/2010/02/fade-to-black.html
flickr HiveMind | MotherChildSeries
http://fiveprime.org/hivemind/Tags/MotherChildSeries
flickr HiveMind | 4Deanna(recent uploads)
http://fiveprime.org/hivemind/Tags/4Deanna/Recent
__________________________________________________________
Stairway to Heaven
GrfxDziner.com
| Articles on Deanna Cremin... Somerville, MA